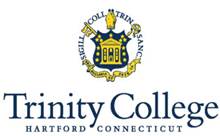 Gallagher Student Login
Your username is your Trinity College Email address (for example: Jane.Doe@trincoll.edu. Please be sure to use your complete firstname.lastname@trincoll.edu. Your First and Last Name cannot be abbreviated.)
Returning Users:
You were required to change your password when you initially logged in. If you have forgotten your password, click the "Forgot Password" link and enter your username. Your username is your Trinity College Email address. Instructions to reset your password will be sent to your Trinity College Email address.
First Time Users:
Your temporary password will be two zeros (00) followed by your 7-digit Student ID (for example: if your Student ID is 1234567, enter 001234567 as the password). You will be prompted to reset your password the first time you log in. A secure link will be sent to your Trinity College email address to complete the process. Once the password is reset you will not receive a prompt again.

To access the waiver or enrollment form, you must log in below. Afterwards, click on 'Student Waive/Enroll' and select your form.

If you have any trouble logging into your user account, you may contact the Student Accounts Office at (860)-297-2028.

Parents: Click here for information on accessing your student's online account.
Gallagher Student Health & Special Risk
500 Victory Road, Quincy, MA 02171
Fax
617-479-0860